With the remnants of melting snow on the ground and a massive amount of deep cleaning at the restaurant I cannot help but think of spring. With warm weather on the mind I, of course, pine for a gin and tonic. Such a simple but fine cocktail.
I could wax poetic about gin until the cows come home but today I want to just focus on the tonic water.If you want to check out the history of tonic water, quite interesting, go to:
http://en.wikipedia.org/wiki/Tonic_water
or to
http://qtonic.com/history.html
.
I love tonic water for three main reasons; I love gin, I run and so I get shin splints occasionally and there is nothing that works better to treat them than quinine (active ingredient in tonic), and third tonic glows in the dark. Very cool.
In the post "All the Trimmings" I encouraged you to purchase the small bottles of tonic and not go for the big 2 liter jugs because the little ones just stay fresh longer. At Le Vigne Restaurant where I head up the cocktail program I make my own tonic syrup and dilute it with Pelligrino and of course gin. The results are divine. At home I am usually not that ambitious and rely on bottled tonic.
Here are 3 of my favorites:
Fentimans: This can be a bit tough to find but it is sooo good! It is woody and full of lemongrass.
Fever Tree: This is crisp and refreshing with great carbonation and a lot of botanicals.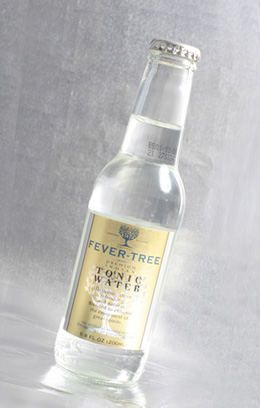 Stirrings Tonic Water:
This is my go to brand for great quality mixers that are easy to find. This tonic water isn't as lively and complex as the Fever Tree or the Fentimans but it is a far step up from the run of the mill.
Tonic I want to try: Q Tonic Water
Here is the bit from their beautiful website:
Q Tonic has returned the essence of tonic water—Peruvian quinine. We custom blend Q Tonic with all natural ingredients, including handpicked Cinchona bark grown in its native habitat, the slopes of the Peruvian Andes. As a result, Q Tonic is a better tasting, healthier, and more authentic tonic water.
My Tonic Syrup Recipe:
4 cups of water
¼ cup fresh pounded lemongrass
Zest and juice of 1 orange
Zest and juice of 1 lemon
Zest and juice of 3 limes
1 tsp juniper berries
¼ cup citric acid
¼ tsp Kosher salt
Over high heat bring to a boil. Turn to low and simmer for 20 minutes. Cool and strain mixture. For every cup of liquid add ¼ oz. Quinine extract and ¾ cup simple syrup. To mix in a drink use ½ oz. tonic syrup to 2 oz. soda water or Pellegrino.
* citric acid is readily available to me because I run a restaurant at a winery and it is a great non-toxic and harmless cleanser. It is also a natural preservative as well as used in many soda recipes.
Keeping in the theme of this blog here is the Playboy recipe for
Honky Tonic:
1 oz. Sciarada
1 oz. Gin
1/2 oz. lemon juice
Iced tonic water
1 slice lemon
Pour Sciarada, gin, and lemon juice into a tsll 12 oz. glass half filled wit iced cubes. Stir well. Fill with tonic water. Stir. Add lemon slice.
I have never heard of Sciarada before but it is apparently an Italian liquor flavored with lemon and orange. Sounds good. I like tonic and I sometimes consider myself a Honky having grown up in the beautiful state of Idaho. I must find this liquor and try it!